This yacht is not available for charter
DB9 Yacht Charter Motor Boat
$250,000 - $275,000
/ per Week
DB9 Yacht Charter Motor Boat
About
DB9 is a stunning Palmer Johnson Sport Yacht that is sure to turn heads anywhere she goes. DB9's sweeping curves and striking metallic champagne exterior make her one of the most unique yachts in the world, as this PJ 170 can accommodate 12 in 5 luxurious staterooms. Some of her standout features include an elegant contemporary interior, a spacious open sundeck with an open-air cinema, an infinity jacuzzi on the aft deck, a jacuzzi on the flybridge, and a 25'/8m foredeck pool. She is able to get you to your destinations quickly, with a cruising and max speed of 22/30 knots. DB9 is also fully stocked with the latest water toys including a 6.4m/21' Castoldi jet tender, 2 jet skis, 2 Seabobs, an inflatable kayak, a Lift E-foil, waterskis, wakeboards, and much more! Accommodations include a generous full-beam owner's stateroom, 2 Queen VIP staterooms, and 2 Twin staterooms. Every stateroom comes with an en-suite bathroom. Moving up to the sundeck, you will be greeted with stylish black lounge furniture and oversized parasols, as the vast sundeck is the ideal space to unwind. Take a dip in the on-deck jacuzzi, enjoy a leisurely lunch overlooking the Mediterranean or sit back and watch a movie screened on DB9's open-air cinema. The options are endless aboard luxury yacht DB9!
Size / Year Built / Builder
171.0 Ft / 2010 / Palmer Johnson
Accommodations
DB9 features flexible accommodations for up to 10 guests in 5 cabins
Full beam Owner's suite with King size bed is situated aft and four guests staterooms are located midships.
2 Queen and 2 Twin staterooms with Pullmans
Onboard Entertainment
Other Amenities
Satellite TV (Where geographically available)
AV system throughout the yacht.
TV's located in all guest cabins, guest areas and Sundeck
Creston Sound system
Kaleidescape video Library
Outdoor movie
Water Entertainment
Dinghy
6.4m/21' Castoldi jet tender
Others
6.4m/21' Castoldi jet tender
2 x Sea Doo 300 GTX Limited jet skis
2 x FS Seabobs
Inflatable Kayak
Lift E-foil
Waterskis
Wakeboards
Kneeboards
Selection of towables
Peleton Exercise bike
Scuba Diving
Scuba
Yacht offers Rendezvous Diving only
Air Compressor
Not Onboard
Technical Details
Communications
Satcom & cellular communications, VSAT, WiFi internet access
Charter Types
Type of Pets
small dogs allowed with deposit
Rates
| | |
| --- | --- |
| Minimum | Maximum |
| $250,000 | $275,000 |
Rates are per week
Please Note:
Our team endeavors to provide up to date and accurate information regarding each yacht in our listing, however, the availability displayed in the calendars and rates, are indicative only and subject to confirmation at the time of your inquiry. With this in mind, please note that premium rates may apply to certain destinations and dates, such as Christmas and New Years in the Caribbean or July and August in the Mediterranean. Kindly contact us for a proposal that details the yacht's final rate and availability.
Crew
Languages Spoken by Crew
English, French, Spanish
Brief
DB9 Crew Profiles

TOM TANNER | Captain | American
Born and raised in Newport, Rhode Island, Captain Thomas Tanner's experience on the water started
almost immediately. Raised sailing on his father's sailboat, by six years old Tom spent his summers
sailing on his own optimist dinghy out of Ida Lewis Yacht Club. At fifteen years old he found himself
in his first job as a deckhand on a 101' wooden schooner where his love of cruising
began. After participating in the Tall Ships and OpSail2000 events Tom returned to Newport, RI to
his roots of competitive sailboat racing. He was hooked, and soon travelled all over the Atlantic
Ocean and Mediterranean competing in world class ocean and maxi racing circuits with wins in
notable races such as The Heineken Regatta, Marblehead to Halifax, Newport to Bermuda Race as
well as both the 12 meter North American & World championships. It was during this time that he
began his second career at sea with formal training and climbed the ranks to Master and Unlimited
Dynamic Positioning officer on a 300' subsea commercial vessel. However, soon the passion of
yachting and the need to travel called once again. Tom looks forward to providing you with an
exclusive and exciting holiday on board DB9.

PATRICIO LOPEZ BENAVIDES | Chief Officer | Mexican
Patricio or Pat as the crew refer to him brings a diverse background in yachting and hospitality. He
has both motor yacht and sailing experience with qualifications that include Chief Mate 3000 GT.
An enthusiast of boating and an avid PADI certified Instructor, Patricio enjoys every moment he is at
sea. During his time back home in Mexico, Patricio spends his afternoons playing golf and enjoying
a good meal with family and friends.
Back onboard, his good-natured spirit and can-do attitude put guests at ease while his
professionalism and ability to command a variety of situations instill confidence. Highly
knowledgeable about the best seaside sights throughout the Med and the Caribbean, Patricio will
thrill guests by whisking them off to the most picturesque hidden coves and enticing attractions
during their five-star getaway onboard DB9.


AUBREY CASTLE-SAUNDERS | Chief Stewardess| American
Aubrey was born in San Diego, California and raised in Honolulu, Hawaii. She grew up doing
competitive gymnastics and later participated in cheerleading. She earned her bachelor's degree in
psychology from the University of Hawaii. After growing up on the beach, it was a natural
progression to work on the water. She came into yachting a bit later in life than most but has made
up for lost time, having cruised the waters of the eastern and western Med, the Bahamas, the
Caribbean, and the South Pacific in the past six years since she began. Her background in fitness
instruction and hospitality made her transition into yachting seamless.
The thing Aubrey loves most about working on charter yachts is meeting new people and finding
new ways to surprise them. She brings a finely tuned ability to anticipate the needs of her guests
and a great sense of humour. When she isn't working you can find Aubrey baking, cooking, doing
arts and crafts, or trying out the newest fitness crazes. Aubrey has previously worked on M/Y
Inception, M/Y Ocean Club, M/Y Mirage and M/Y Dream. She speaks English and is always keen to
practice French.

CAMILLA LANHAM | Second Stewardess| South African
Camilla grew up in Franschhoek, a beautiful wine valley in the Western Cape. She has been surrounded by over one hundred boutique wine farms and world-renowned restaurants since she was seven. This is where her passion for food and wine was born. Camilla also has a keen passion for singing and dancing and decided to complete her degree in Musical Theatre, even though it was inevitable that she would find herself back in the food and wine scene. She recently finished her twelve-week culinary course at Ballymaloe Cookery School, she hopes to keep her food dreams alive and there is no place better to do it than on the yachts where her passion is shared.

Camilla has worked on the yachts on and off for 10 years, she previously worked on M/Y Stormborn, M/Y ANNA1, M/Y Zulu3 to name a few. She finds joy in making sure the guests are well looked after and always happy. She loves making cocktails, table decorating, and service. Camilla is enthusiastic and has a constant and happy disposition and she is committed to making sure guests have a once-in-a-lifetime experience onboard M/Y DB9.


CLARA HANSEN | Third Stewardess | Swedish
Clara was born in a small town in Sweden where she graduated and later worked as a photographer,
nanny and a barista at a local café However, her love for the ocean and the craving for a new and
exciting challenge got her to leave it all behind and pursue a career in yachting in 2022. In her free
time, you will find her traveling, playing football and hiking. Clara has been able to merge her love
for the ocean, traveling and meeting new people into her perfect role as a stewardess where she is
excited and committed to provide an outstanding experience for our guests.

BHES BAHADUR | Fourth Steward | Nepali
Mr. Bhes as his fellow crew love to call him has over fifteen years of loyal service on board yachts,
fearing no task set upon him, whether its interior duties or helping out on desk, nothing is
unattainable. Bhes is loving of the career that he has chosen and always strives for the best results
possible. Mr. Bhes enjoys motivating his fellow crew members always enjoys having crew dinners
out with his crew members whenever time off is on the books. When not onboard, he travels back to
Nepal to spend time with his family and always returns back with his signature smile. Mr. Bhes will
ensure that every day is a positive one onboard DB9.


DAN ABBOTT | BOSUN | English
Dan Abbott grew up in Yorkshire, England. He spent his childhood playing basketball and nurturing
his affinity for music. He is well-versed in playing the guitar, bass, and drums, learning the piano,
and has a wonderful singing voice. Before joining yachting he played the guitar for Paolo Nutini and
his band played in festivals such as Glastonbury, Leeds, and Redding.
He joined yachting, following in his Chief Officer father's footsteps, after needing a break from
performing. However, he soon found that he could intertwine his new career and his love of music
with charter guests. If you are lucky, maybe he will play a song or two for you! Dan's favorite parts
of yachting are being able to explore new and beautiful places, his favorites are the Dalmatian and
Balearic islands, and being able to share his love of music with guests. He has previously worked on
boats such as Stella Maris, The Wellesley, Illusion, Nero, and Aquarius.


RYAN MCKENZIE | 2nd Engineer/Deckhand | English
Ryan grew up in Brighton, England, with a creative and adventurous family around him, leading him to be enthralled by history, travel, and culture. After finishing school and college, Ryan became a qualified carpenter with the aim of traveling with his trade. He spent time in the Americas, working on numerous projects until he discovered yachting and went to Florida to take his courses and he hasn't looked back.

Since being in yachting Ryan has gained a lot of experience; sailing the Mediterranean, the Caribbean, and New England, and has continued his nautical education and expanded his knowledge and is now consummate in his dual role. He thrives being on the water and is a divemaster as well as a yoga enthusiast. Possessing an effusive and passionate personality, Ryan will always strive to ensure that his guests have the best experience on board; paying great attention to detail, and providing meticulous service.


DONALD LEEVERS | Deckhand | English
Donald was brought up in Newcastle, Australia, an area known for its beaches and vineyards. He
enjoyed his surroundings by being very involved in many different sports such as soccer, tennis,
kickboxing, golf, and swimming. He was and still is an avid reader in his free time as well. In Donald's
pre-yachting life, he put his green thumb to work as a private landscaper and in a nursery.
Donald's enjoyment of the sea led him to yachting through the suggestion of his sister who thought
his skills would be a great match for the industry. He took a leap of faith, sold all his belongings, did
his courses, moved to France, and was rewarded with his first position soon after. He has previously
worked aboard Stella Maris, Martha Ann, Stormborn, Lady Tahiti, and Anna I. He has cruised the
waters of the Mediterranean, Caribbean, and Bahamas. His favorite places have been Southwest Turkey,
the Adriatic Sea, and Croatia.


VALERIY KUTS | Chief Engineer |
Info coming soon...


JOSHUA WARRINER | Chef | British
Joshua originates from South Africa, although he moved to the United Kingdom at a young age his
culinary roots stem from what he knows. Classically trained and having spent a vast amount of time
travelling through India and South East Asia, Josh likes to keep a modern flair to his food with a
twist of tradition and fusion, as well as always been readily available to suggestions or requests from
guests. Joshua aims to provide guests with the most memorable experiences that they may encounter
in any restaurant, whilst on the water with beautifully presented and tasting food. "My biggest
joy in life is being able to feed someone and see a smile on their face. Whether that's something
that is completely new to them or that they ate as a child. I want my guests to be happy with what
they eat."






Inclusions and exclusion are not standardized across the different yachts, with each offering slightly different terms. Please contact us for a proposal that details the yacht's availability, individual pricing based on the number of guests in your party and particular dates, as well as the list of the inclusions and exclusions for that particular yacht.
This yacht offers an "All Inclusive" Rate:
Typically this includes all your breakfasts, lunches, dinners and snacks. Standard Ship's Bar which includes your alcoholic and non alcoholic beverages. Fuel for the yacht and its tender, and the necessary water for the onboard facilities. Use of the Yacht's onboard equipment and the Captain, Chef and Crew's services.
Excluded are airport transfers costs, onshore excursions and tours, as well as any food or beverages purchased ashore. Although optional, crew gratuity is customary at 15% - 20% of the charter rate for the Caribbean and 10% - 15% for the Mediterranean.
Inclusions and exclusion are not standardized across the different yachts, with each offering slightly different terms. Please contact us for a proposal that details the yacht's availability and individual pricing based on the number of guests in your party, as well as the list of the inclusions and exclusions for that particular yacht.
This Yacht offers a "Plus Expenses" Rate:
Included are the Yacht and its onboard equipment as well as the Captain, Chef and Crew's services.
Excluded are food and beverages, fuel for the yacht and its tender, any dockage, airport transfers costs, onshore excursions and tours, as well as any cruising permits, licenses and other charter related expenses. Crew gratuity, although optional is customary at 15% - 20% of the charter rate for the Caribbean and 10% - 15% for the Mediterranean.
Advanced Provisioning Allowance:
For "Plus Expenses" charters, yachts request an Advance Provisioning Allowance (APA), which is generally estimated at 20% - 25% of the base charter fee for sailing yachts (catamarans and monohulls) and at 30%-35% for motor yachts. The APA essentially creates a bank account for the Captain to purchase provisions, fuel, dockage, food, beverages, bar, and other consumables on the charterer's behalf. The Captain will keep all receipts and manage a running balance of the account, so that expenditures can be checked at any time. Any amount not used will be refunded at the end of the charter. If during the charter the costs have exceeded the collected APA, then additional funds will be required for the outstanding bills. All purchases are transparent and nothing is marked up. The APA is used purely for the charterer's provisions and charter-related expenses.
Similar yachts to DB9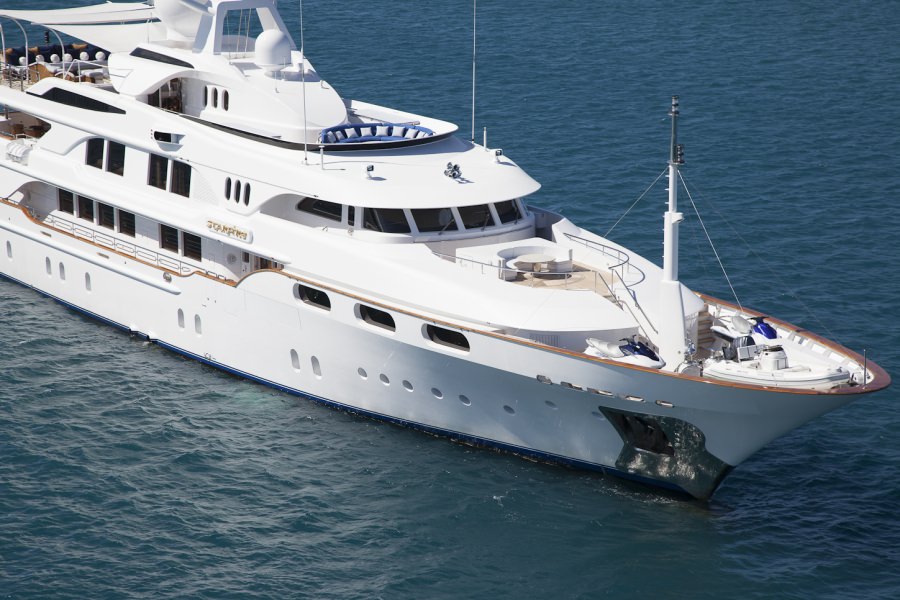 $248,000 - $288,000
/ per Week
Sleeps 12 guests in 6 Cabins
Size: 178.0 Ft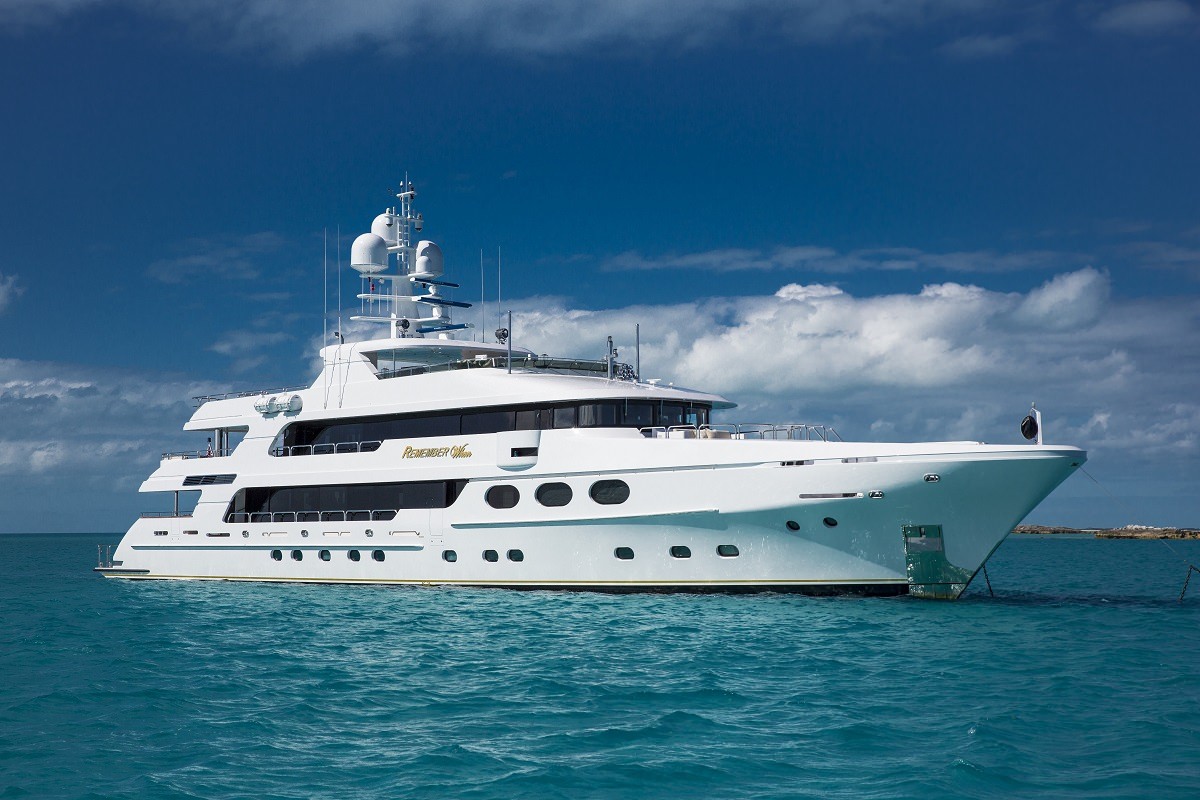 Sleeps 12 guests in 6 Cabins
Size: 162.0 Ft
Scuba