Size / Year Built / Builder
213.0 Ft / 2010 / Codecasa
Water Entertainment
Others
WATERSPORTS AND RECREATION
– 2 x FX SVHO Wave Runners
– Flybord with 9m/30ft hose
– 2 x Aquaglide Columbia 130 Inflatable Kayaks
– 2 x SeaBobs
– 2 x Inflatable Stand-up Paddleboards
– Lift Electric Hydrofoil Board
– FUNAIR Water Slide - bridge deck to waterline slide
– Aquaglide King of the Mountain Inflatable Climbing Wall and Slide
– Rebound 3.6m/12ft water trampoline
– FUNAIR 4m/13ft x 4m/13ft Inflatable Lagoon Pool
– 2 x Nautiboy 800 x 675 Runway/floating mat
– 4 x 1.8m/6ft foam rollup mats
– Snorkeling gear - various sizes
– Waterskis, wakeboards & tows, Metro Banana Boat (5 person)
– Retro Winged Inflatable (3 person), Inflatable Raptor (2 person)
– 4 x Aquaglide Single Donuts
– Beach BBQ set-up, full array of beach toys

TANDEM OPTIONS AVAILABLE: The ETERNITY Fleet offers exciting options in addition:
ISLAND TIME: 53' HCB Suenos Center Console Yacht with 4 x 375hp - cruising at 45kts. Transfer from Albany Marina to the Exumas in an hour!
REEL TIME: 50' Viking Sport Fish - for the core angler, enjoy an offshore fishing vessel

Oversized foredeck Jacuzzi (5.25m /17.3ft x 2.6m /8.5ft) doubles as an exercise pool with several current resistance speeds.

Scuba Diving
Scuba
Yacht offers Rendezvous Diving only
Air Compressor
Not Onboard
Rates
| | |
| --- | --- |
| Minimum | Maximum |
| $390,000 | $390,000 |
Rates are per week
Please Note:
Our team endeavors to provide up to date and accurate information regarding each yacht in our listing, however, the availability displayed in the calendars and rates, are indicative only and subject to confirmation at the time of your inquiry. With this in mind, please note that premium rates may apply to certain destinations and dates, such as Christmas and New Years in the Caribbean or July and August in the Mediterranean. Kindly contact us for a proposal that details the yacht's final rate and availability.
Captain
Nationality
South African
Crew
Title
Relief Captain & Chief Officer
Nationality
South African
Brief
ALDON BEUKMAN — Captain — South African
Captain Aldon was born in George, South Africa and grew up in Yzerfontien, a small fishing village on the west coast of South Africa. His parents owned a small shack on the beach so from an early age he was taught to love and respect the ocean, only taking what you really need. Following grade school, Aldon worked as a commercial fisherman, gaining beneficial knowledge of safety practices and proper vessel handling in high seas off the western coast of South Africa. In 2007, just before taking a position on an offshore oil rig, Aldon was presented with an open deckhand position through a friend. He then made the easy transition to yachting and has worked his way through the ranks to gain the title of Captain. Aldon has managed, planned and enjoyed the entire ETERNITY refit in 2018, and excels in creating a pleasant working environment for his crew. A generous and thoughtful attitude guarantee all ideas are heard and ensure the most practical solution to any problem is taken. Aldon strives to turn vacations into adventures, and dreams into memories.

Previous Yachts: M/Y G-FORCE(40m), M/Y TACANUYA (55m), M/Y MEAMINA (60m), M/Y SAI RAM (52m), M/Y AVIVA (68m)
Interests: Fitness, surfing, fishing, rugby, real estate

ROSS O'BIERNE — Relief Captain & Chief Officer — South African
Ross grew up in the coastal town of Durban, South Africa, and along with his two sisters and their parents, spent many holidays down the southern coast of the KwaZulu province. After his seaside boyhood, Ross travelled to London to pursue his Finance degree, and here he completed his FSA part 1 & 2. For the next 2 years, following his graduation, Ross worked in personal, business & investment banking in London for Credit Sussie where he managed product control. However in 2012, Ross decided to trade in life on land to follow his dreams back to his roots and begin a career in yachting. With his whole life as experience and preparation for any activity on the water, Ross is your go to guy for all things fishing. An accomplished spearfisherman and general "fun-junkie" Ross can guarantee al guests have the time of their lives and make lasting memories on board ETERNITY. Ross holds a dear place for this impressive yacht and professional, experienced crew, that creates an atmosphere of comradery and comfort. ​

Previous Yachts​: M/Y HUNTRESS (60m)​, M/Y NERO (90m)​, M/Y ELANDESS (60m)
Interests: Fishing​, Surfing​, Scuba diving​, Rugby​, Cricket​

MATTHEW TIVEY — Second Officer — British
Matthew grew up in a small village in Cheshire, UK and throughout his adolescence was very involved in sports. A young star on his grade school football team, and an avid skier with his family, Matthew excelled in anything athletic. From 2008 to 2010 Matthew attended Aquiness College where he focused on his business degree. Following his education he worked for Mercedes Benz, where he gained experience in teamwork and strategy as well as working with clients and meeting their every need. For the next two years Matthew put his schooling to the test while working for Barclays Bank, further developing his customer service skills. In 2013, after following in the footsteps of a family member, Matthew joined the yachting industry, bringing his wealth of knowledge of fulfilling all clients requests, and well as an enthusiastic desire to create the experience of a lifetime. Matthew maintains a client-focused deck crew and relishes in the excitement of sharing adventurous itineraries with guests.

Previous Yachts​: M/Y HALO (57m)​, M/Y KAMALAYA (55m)​, M/Y SAI RAM (52m)​, M/Y LADY N (65m)
Interests: Fitness​, skiing​, watching Manchester United

DIJANA BUBANJA — Chief Stewardess — Montenegrin
Growing up in Tivat, Montenegro, Dijana combines her love for the ocean, traveling and making people happy as her main reasons she joined yachting in 2013. Her previous work experience of fitness, real estate, and restaurant hospitality has shaped her into the positive and energetic hard worker she is today aboard ETERNITY. She shares a passion and enthusiasm with her fellow crewmembers toward the job. What she loves most about chartering is meeting different guests and seeing them enjoy themselves; especially when they appreciate all the efforts the crew has put in to make their vacation unforgettable. Dijana looks forward to welcoming and serving you.

ELLA YEANDLE — Second Stewardess — British
Originally from Devon, UK, Ella grew up in the southwest English countryside. She spent most of her childhood outdoors riding horses and at the beach surfing with her brother. Ella attended Queen Elizabeth's community college where she studied art, photography, food technology and outdoor education. She worked in a French delicatessen, at weddings across the English countryside and was an au pair for three young French children in Courchevel, Trois Valley. Ella joined yachting in 2016 and has enjoyed the lifestyle ever since. She can be described as a high-energy individual, eager to help others and get the job done properly, all while upholding a positive team morale. Creating the ultimate dining experiences for new guests and anticipating their needs is what she excels in. Ella believes that charters are always fast pasted, lively and very active - a great energy to be a part of.

LIDIA ACKERMAN — Stewardess — South African
coming soon!

JOHANNA KORYTKO — Stew/Masseuses — Polish
Coming soon!

RILEY CHEWNING — Stewardess/ Head of Housekeeping — American
Coming soon!

KATIE JENSEN — Purser - New Zealand
Katie was born in Whangarei, a city on the east coast of New Zealand's north Island. Katie spent her childhood in Cairns, Australia until she was 13, when her family moved back to New Zealand to the town of Gisborne. Katie's adolescence has always included being close to the sea, giving her plenty of time to master surfing and diving. During her schooling, Katie has worked as a bar manager and a maitre d and In 2006 Katie completed her diploma in Travel and Tourism from the New Zealand Transport Agency. With her people skills and her education under her belt, Katie then took a position as a travel consultant, where she stayed for 7 years, learning the ins and outs of itinerary planning, immigration laws, accounting, and most importantly the emphasis of making dreams become reality. It was the year 2010 when Katie decided to take her talents back to sea that she had fallen in love with in her younger days and joined the yachting industry. With an keen eye for design, Katie is the perfect addition ETERNITY, creating unique, creative spaces throughout this impressive yacht. Her expertise and dependability are unmatched, and the perfectionist aspect to her work is apparent in any task that she is given.

Previous Yachts​: M/Y EQUANIMITY (92m)​, M/Y AVIVA (69m)
Interests: Fashion​, fitness​, food​, diving​, surfing

JASHAU KING — HEAD CHEF — TBD
Coming soon!

NATRICIA PANAYIS — Sous Chef — Cypriot
Coming soon!

RACHID KARAM — Chief Engineer — Dutch
Rachid was born to a Dutch mother and a Moroccan father and lived a nice childhood, growing up in Amsterdam. He graduated in
2005 as a Maritime Officer from Maritiem Institute Ijmond. He joined yachting in 2010, simply because a friend recommended it! Rachid
believes ETERNITY provides a great social atmosphere with a high degree of team spirit and that "can do" mentality, which is what he admires most. Fellow crew describe him as responsible, intelligent, resourceful and fun to be around. Rachid has the eagerness to bring safety and reliability to the vessel.

Interests: Science, Technology, Politics, Investing, Family life

GONZALO MAZZUCCO — SECOND ENGINEER

Born and raised in Cordobo, Argentina and the eldest of three brothers, Gonzalo "Gonzi" is always up for a challenge. He received nautical engineering education from the Escuela Nacional de Nautica Manuel Belgrano in 2009. Before he joined the ETERNITY crew in 2020, Gonzi's 12+ year previous work
history was on commercial vessels (tankers, offshore and dredging). He learned welding, various mechanical skills, and electric work during those years.
When not on ETERNITY, you can find Gonzi traveling around the world and learning about other cultures. Considered an easy-going person, Gonzi enjoys working in a team environment and helping others.

CHRIS MATHYS VAN ROOGEN — BOSUN

Chris was born and raised in the rural South African town of Moorreesburg, along with his large family that he remains very close to. Chris' upbringing consisted of hot days and long nights playing sports outside with his family and friends. Following his education, and being lured by the enchantment of the sea, Chris gave up his land-locked life and obtained his Class 2 Commercial Diver license. With this, he began an adventurous career in underwater welding and salvage diving. For the next five years, Chris tried his hand at diving for diamonds and dabbled in the oil and gas industry, before moving to a career above the surface in 2017. With his fit and active ambitions and upbeat attitude, Chris is the ultimate deckhand and friendly face to find on board. With ETERNITY, Chris enjoys the fellowship of the crew and the constantly changing scenery that provides unique experiences for every guest.

WALTER (TREY) MCLAIN — LEAD DECKHAND

A true southern gentleman, Trey was born in Mississippi, USA and was raised in Alabama on a cattle farm where he was no stranger to hard work outdoors. A modern cowboy, Trey not only cared for the animals on the homestead, but also participated in barrel races and rodeos as well as excelled in football, baseball and basketball. Throughout his schooling, Trey became the epitome of a handyman. Following grade school, he took courses in construction where after he took a job building retaining walls to combat erosion. After mastering all the countryside could offer him, Trey decided to take his abilities to the sea and joined the yachting industry in 2014. Onboard ETERNITY, Trey enjoys the family he has found in his fellow crew from around the world and how they mesh effortlessly to create unforgettable charters for guests. Trey brings a genuine charm, politeness, and a kind, gentle demeanor to the deck crew, as well as a relentless work ethic. You will always find Trey eager to share his love for water sports with charter guests. He enjoys providing them with an experience they will remember forever.

JACQUES BOTHA — DECKHAND

Jacques was born in Cape Town, South Africa into a small family who remain very close and enjoy spending time together. In 2014, Jacques achieved his Diploma in Draughtsmanship. Following graduation, he spent five years as a 3D draughtsman around South Africa. Finding success in an office lifestyle,
although comfortable, it just wasn't quite enough to satiate all of Jacques' desires in life, so he headed to the open ocean and joined the yachting industry. A lifelong adventure junkie and lover of all things active, his presence on board ETERNITY is a perfect fit with his expertise on any and all
water toys. Jacques' greatest goal is to show all charter guests the time of their life; he does so by maintaining the superior quality of the exterior of the yacht and servicing all guests with a smile and to the best of his ability.

DIRK DE JAGER — DECKHAND

From a small farm town in Cape Town, South Africa, Dirk received his Master's Degree in Structural Engineering from Stellenbosch University in 2018.
Dirk was a business owner of both an online hair/ beauty distribution company and a digital business card app. He was also a manager for an events company. He realized that his passion was being out on the ocean, so he decided to get into yachting and joined the ETERNITY in 2021. A charismatic and funny fellow, Dirk enjoys interacting with guests and the crew








Inclusions and exclusion are not standardized across the different yachts, with each offering slightly different terms. Please contact us for a proposal that details the yacht's availability, individual pricing based on the number of guests in your party and particular dates, as well as the list of the inclusions and exclusions for that particular yacht.
This yacht offers an "All Inclusive" Rate:
Typically this includes all your breakfasts, lunches, dinners and snacks. Standard Ship's Bar which includes your alcoholic and non alcoholic beverages. Fuel for the yacht and its tender, and the necessary water for the onboard facilities. Use of the Yacht's onboard equipment and the Captain, Chef and Crew's services.
Excluded are airport transfers costs, onshore excursions and tours, as well as any food or beverages purchased ashore. Although optional, crew gratuity is customary at 15% - 20% of the charter rate for the Caribbean and 10% - 15% for the Mediterranean.
Inclusions and exclusion are not standardized across the different yachts, with each offering slightly different terms. Please contact us for a proposal that details the yacht's availability and individual pricing based on the number of guests in your party, as well as the list of the inclusions and exclusions for that particular yacht.
This Yacht offers a "Plus Expenses" Rate:
Included are the Yacht and its onboard equipment as well as the Captain, Chef and Crew's services.
Excluded are food and beverages, fuel for the yacht and its tender, any dockage, airport transfers costs, onshore excursions and tours, as well as any cruising permits, licenses and other charter related expenses. Crew gratuity, although optional is customary at 15% - 20% of the charter rate for the Caribbean and 10% - 15% for the Mediterranean.
Advanced Provisioning Allowance:
For "Plus Expenses" charters, yachts request an Advance Provisioning Allowance (APA), which is generally estimated at 20% - 25% of the base charter fee for sailing yachts (catamarans and monohulls) and at 30%-35% for motor yachts. The APA essentially creates a bank account for the Captain to purchase provisions, fuel, dockage, food, beverages, bar, and other consumables on the charterer's behalf. The Captain will keep all receipts and manage a running balance of the account, so that expenditures can be checked at any time. Any amount not used will be refunded at the end of the charter. If during the charter the costs have exceeded the collected APA, then additional funds will be required for the outstanding bills. All purchases are transparent and nothing is marked up. The APA is used purely for the charterer's provisions and charter-related expenses.
Similar yachts to ETERNITY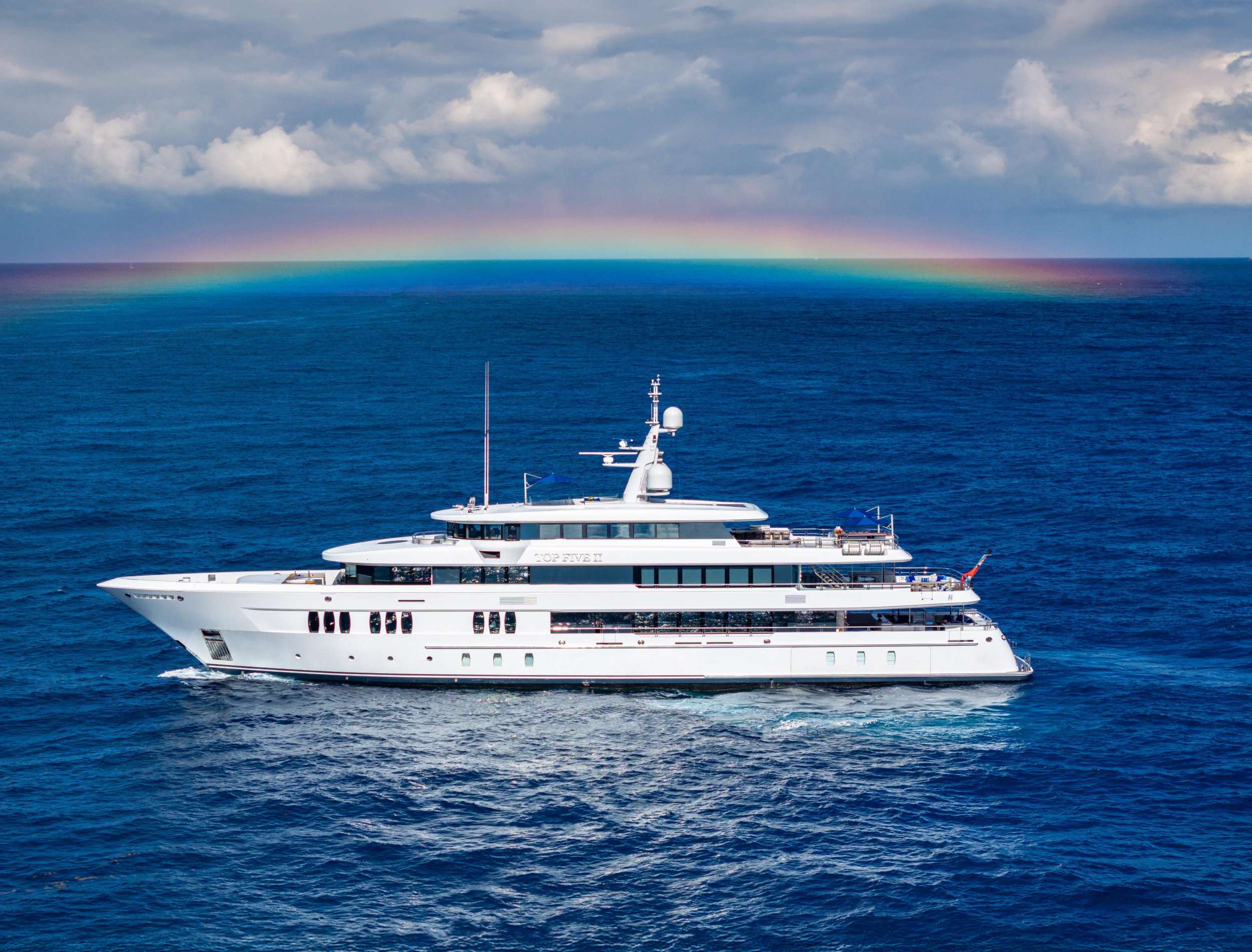 $550,000 - $600,000
/ per Week
Sleeps 10 guests in 6 Cabins
Size: 200.0 Ft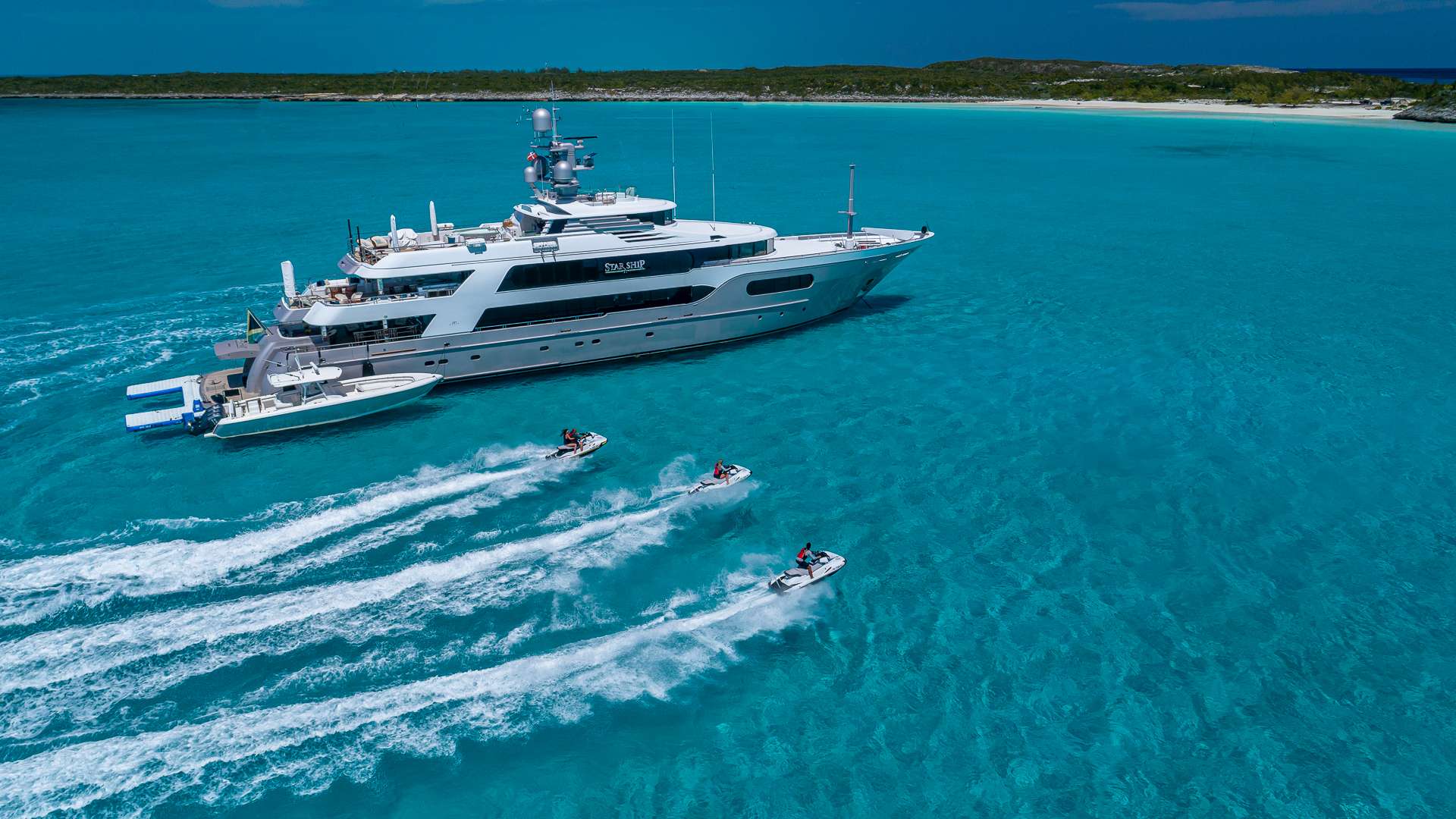 $275,000 - $315,000
/ per Week
Sleeps 12 guests in 6 Cabins
Size: 185.0 Ft
Scuba